Our healthcare solutions are fully validated and comply with: local text messaging regulations, 21 CFR Part 11 on the usage, protection, and audit of electronic signatures and records, U.S. Health Insurance Portability and Accountability Act (HIPAA), EU Directive 2002/58/EC (ePrivacy Directive) and Regulation (EU) 2016/679 (General Data Protection Regulation). 
Our solutions have supported a number of use cases including:
Adherence & Medication Reminders
Poor medication adherence can negatively impact the overall effectiveness of health systems. It is reported that in developed countries, only 50% of patients with a chronic disease adhere to treatment recommendations.1 Medication adherence can be improved using text messaging or mobile apps. They educate consumers, support treatment management and automate tasks. Timely and effective interventions like medication reminders can improve an individual's behaviour – whether it be taking medication, following a diet, or making healthy lifestyle changes – corresponding with agreed-upon recommendations from a healthcare provider. Our healthcare apps and text messaging solutions  can be customised to suit any need and is economically feasible to be used in both industrialized nations and developing countries.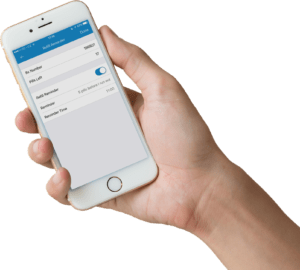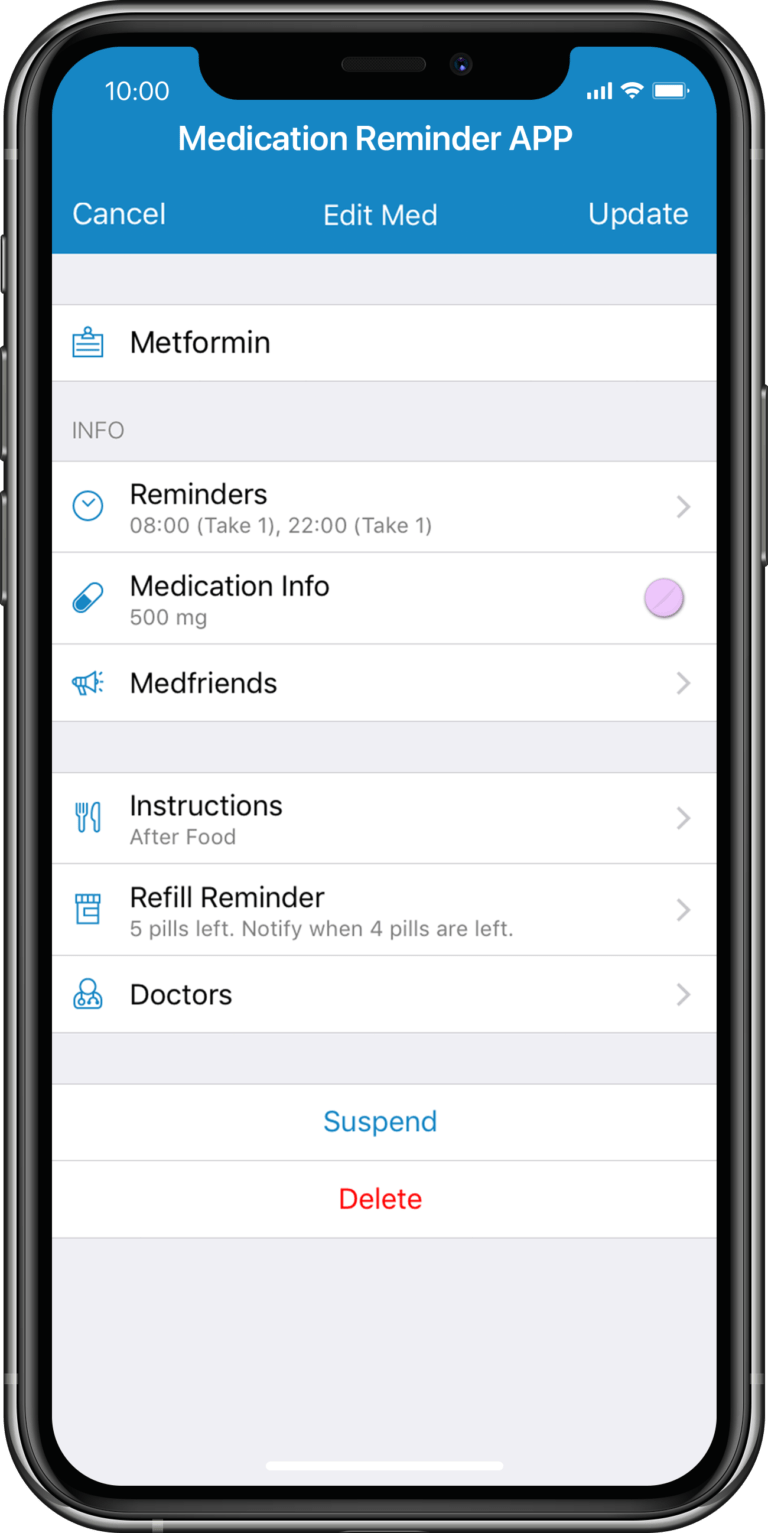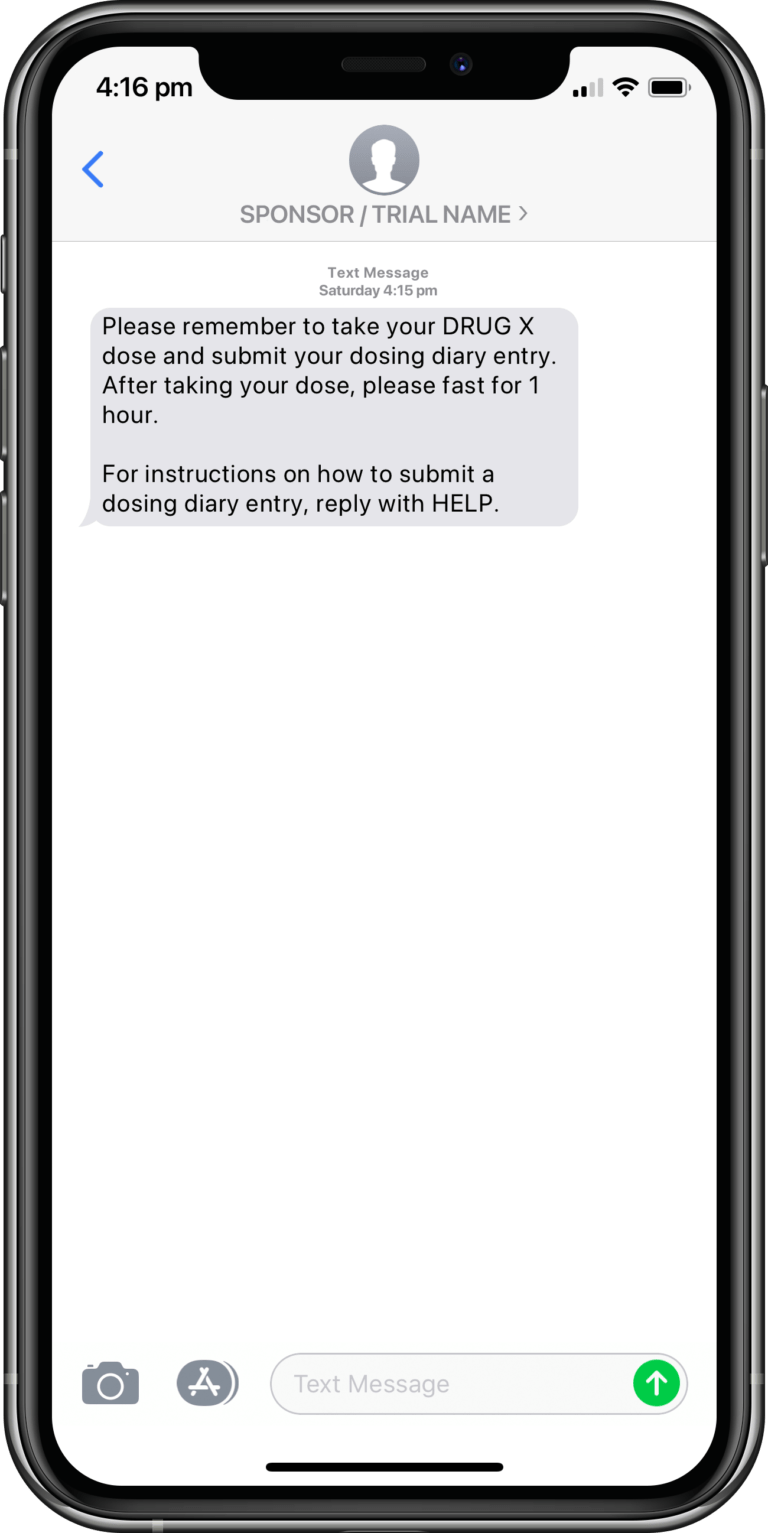 Send timely, effective personalized messages to patients, caregivers and health workers:
Appointment Reminders. Schedule visits on our web interface and have reminders sent on when to attend, how to prepare, what to bring, how to confirm and/or how to reschedule.
Medication Adherence. Remind patients to take or apply medication and/or provide instructions on how to perform the activity.
Motivational Messages. Send inspirational and informative messages to motivate patients and remind them of the importance of adhering to treatment protocols.
Prescription Refill Reminders. Ensure patients have an adequate supply of medication.
Job Aids. Extend hospital services by providing remote / mobile  health workers with relevant treatment information (utilizing 2-way communications).
Telehealth & Digital Touchpoints
The healthcare industry is entering the era of digital innovation. The COVID pandemic accelerated the use of digital services like telehealth by 38X as compared to pre-COVID baseline.2  Around 40 percent of surveyed consumers stated that they believe they will continue to use telehealth going forward—up from 11 percent of consumers using telehealth prior to COVID-19. On the provider side, 58 percent of physicians continue to view telehealth more favorably now than they did before COVID-19. 
Patients today value convenience and seek on-demand healthcare because of their busy schedules. In fact, 51.3 percent of all patients list convenience and access as the most important healthcare factors influencing their decision making.3
Consumers are going online to obtain medical information for the following reasons:4
47% research doctors

38% research hospital and medical facilities
77% to book medical appointments
Case Study - Health & Wellness Digital Solutions
Challenge: In light of the COVID pandemic, a physiotherapy clinic wanted to improve consumer access to its services as well as to lower costs.
Solution: Improved the patient journey by restructuring the clinic's website with improved content and features. The patient experience was significantly enhanced – from discovery (of available health services) through to treatment delivery. 
Improved content that is search engine optimisation (SEO) and localisation friendly.
Made the website to be mobile responsive  (i.e. content is formatted to fit on mobile screens providing a better user experience).
Implemented an online booking system, including text messaging and email reminders to both doctors and patients.
Integrated online payment systems.
Introduced telehealth services (i.e. online video health consultation and treatment with doctors).
Benefits:
An online booking system improved internal processes – 60% reduction in paperwork, 29% increase in patient face time.
A secure telehealth system provided scalability and flexibility, resulting in real savings of employee cost, capital investment, and facility management.
In light of the pandemic, social distancing was assured using online rehabilitation services. Moreover, there was the added convenience for both doctors and patients with regards to travel and scheduling.
Mobile Responsive Website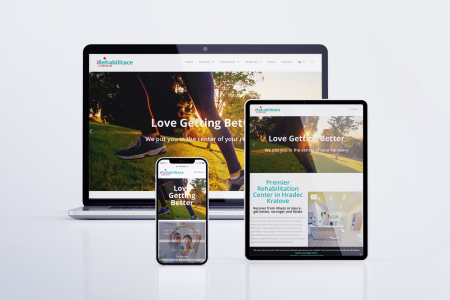 Reservation & Payment Systems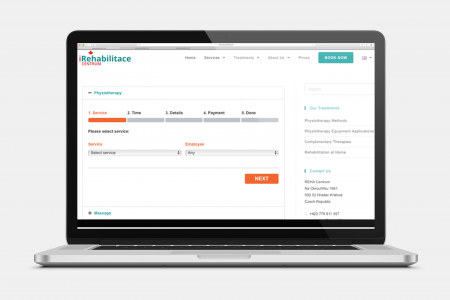 Telehealth - Online Rehabilitation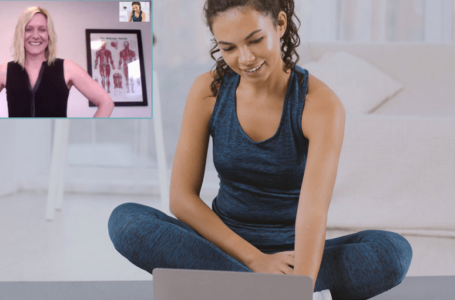 Hospitals and medical facilities are challenged with overcrowded emergency rooms and waiting rooms as a result of higher demand vying for a limited number of primary care physicians. Various studies about outpatient services have elicited problems which include overcrowding, delay in consultation, and lack of proper guidance that leads to patient dissatisfaction. As patients look for hassle free and quick services for medical treatment, healthcare leaders are looking for solutions, including those offered by a healthcare app, to accommodate this need.5
Unnecessary Emergency Room (ER) visits are a major cost driver and quality issue for hospitals today. Most noteworthy is the fact that 70% of ER visits are for non-urgent conditions. Simply diverting 10% of these unnecessary visits to a non-ER primary care alternative based on 24 million enrollees would yield a potential savings of $461 million each year.6 Moreover, a study found that patients who received help from their providers such that they could share in decision making of who to see saw 12.5 percent fewer hospital admissions and 5.3 percent lower healthcare costs.7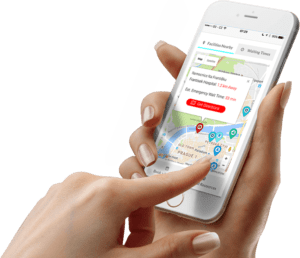 A hospital healthcare app can coordinate care across providers and help direct patients to the right provider based on the following functionality:
Appointment Scheduling: Allow patients to schedule appointments and send out appointment reminders.
Self-help: Offer patients an instant symptom checker of the most common, non-urgent conditions
Indoor Navigation: Make it easier for patients and visitors to find their way around hospital buildings and grounds by providing them with indoor navigation systems like iBeacons.
Promotion / Awareness: Provide a list of applicable health facilities nearby, directions, hours of operation, waiting times and accepted insurance.
Prescription adherence: Offer prescription reminders and timed push messages to improve patient education and adherence.
Reduce Emergency Room (ER) visits: Inform patients of alternative primary care facilities addressing the specific condition a patient is experiencing. Non-ER primary alternatives can be cheaper and also more convenient for the patient.
Reduce Preventable Readmissions: Provide pre-op and post-op instructions for any surgery or procedure. Offer medication protocol notifications and reminders.
Reminders: Coordinate and notify patients of immunization and physical check-up schedules.
Hospitals can also make it easier for patients and visitors to find their way around the buildings and grounds by providing them with navigation systems. iBeacons could come in handy for such systems as they support indoor navigation much better than GPS systems.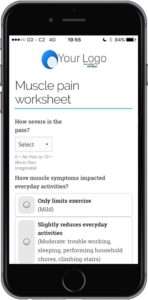 Provide the Care for Patients
Provide a branded hospital app which can be distributed via QR codes or links on your website, email, posters, etc. Educate your patients about care options and self assessment for initial triage. Based on symptoms observed, patients can be directed to the appropriate healthcare facility – whether it be the Emergency Room in hospitals, urgent or primary care facilities, medical clinics, other outpatient clinics, etc.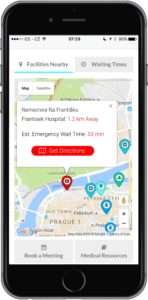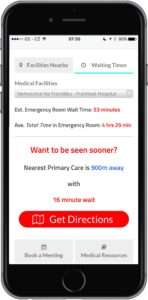 Within the Health Facility app, provide a list of different facilities, their opening hours, directions to get there, and dynamically populated waiting times. Facilities can be shown based on proximity to a patient's location or based on symptoms entered. Promote the nearest alternative(s) that can accommodate the patients' self assessment.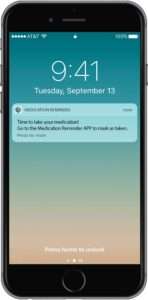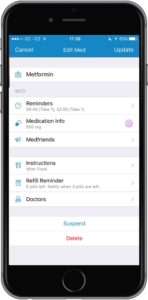 Offer Medication & Appointment Reminders
The best course of action against any malady is preventive health care. Get timely immunizations and physical check-ups to. Offer patients the ability to book, change or cancel appointments.
As medication non-adherence is a huge problem in the industry, consider offering consistently effective medication adherence interventions. Send out daily alerts, offer prescription refill reminders, and inform patients how to take or apply their medication properly.
1 International Journal of Pharmacy Practice, Volume 29, Issue 2, April 2021, Pages 93–95.
2 "Telehealth: A quarter-trillion-dollar post-COVID-19 reality?", McKinsey, July 9, 2021. Pew Research Centre
3 "5 benefits of online scheduling for healthcare practices", PatientPop.
4  Pew Research Centre
5  "Top Issues Confronting hospitals – 2019 Survey", American College of Healthcare Executives, 2019. 
6  IBM – Truven Health Analytics
7  "Enhanced support for shared decision making reduced costs of care for patients with preference – sensitive conditions", David Verify, Amy Marr, David E Wennberg, Health Affairs, Vol. 32, No. 2, Feb. 2013.