The Digital Opportunity
The digital era has brought a completely new outlook on how we interpret customers' requirements and deliver excellent experiences. It all starts with creating what we call the customer journey map. This map is the complete sum of experiences that customers go through when interacting with your company and brand. Each specific interaction is a touchpoint offering the opportunity to gain deep insights into your customers' behaviours and motivations.
Digital Customer Journey – from Advertising Push to Engagement
The traditional path from making a customer aware of a brand's offering through to a converted sale was fairly simple. Firstly, customers would learn about your products, usually from some marketing or advertising. Thereafter they would seek out additional information and make a purchase. Digital touchpoints were traditionally considered as advertising media, prompting customers to physically visit stores and make a purchase.
Nowadays, digital provides consumers a plethora of ways to interact with brands. Moreover, digital has caused a shift in customer expectations, resulting in a new kind of modern buyer. Consumers can instantly compare your prices and products with rival brands. They can read customer testimonials, post reviews, access educational content and share conversation with friends offering advice. Moreover, they can engage directly with your customer service team even if they have never made a purchase. In short, the rise of online and mobile commerce delivers highly personalized experiences and gives the customer the power to define their shopping experience.
Customer Journey Mapping
Creating a customer journey map gives you a high-level overview of all of the touchpoints across five stages of the customer journey. We've provided an overview of each stage below:
Awareness: The consumer has a need and searches for available products / services to fulfil that need
Consideration: The consumer evaluates the product and available offers from other brands
Purchase: The Consumer makes the purchase
Experience: The consumer starts using your product or service, experiences it, and gets retained based on the usage
Loyalty: The customer returns to purchase the item or similar items again, influenced by on the post-sales experience
According to Accenture approximately 88% of offline buying occurs after online research. In fact, a Nielsen study of retail marketing touchpoints found that almost half of US households purchases products after using EIGHT different channels (across print and digital) to get information about the product itself. Similarly, a Salesforce study found consumers around the world use on average 8 -12 different touchpoints when engaging with brands – Germany (10), Brazil (11), Australia / New Zealand (9), India (12).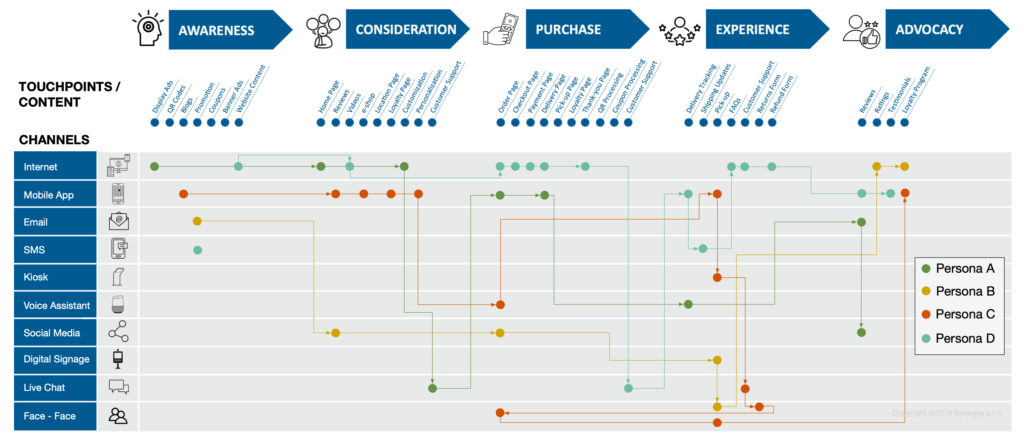 Leverage Digital Marketing and Mobile to Deliver great Customer Journey Experiences
A great customer journey map should articulate an ideal experience.  Customer Journey Mapping improves marketing return on investment by 24 percent and shrinks sales cycles by 16 percent. This increases when you consider how customer journey maps can guide how businesses can leverage digital to improve ROI. Numerous industry examples exist describing how journey mapping improves business performance.
Brands are actively employing digital to provide superior customer experiences. The aforementioned Nielsen study found that a retailer's website is the most used digital channel, with store apps and text messaging, social media, and money-saving apps experiencing double-digit growth.

Although mobile is a subset of digital, mobile's reach and influence on consumers' daily lives makes it an ecosystem of digital marketing channels. Everything is impacted by mobile. To illustrate, mobile apps, text messaging and calling are all inherently associated with a mobile device. Mobile can also be used to access email, search/SEO, content marketing, social media, display / banner ads, video, and geo-targeting. Moreover, mobile influences offline channels (e.g. billboards and other signage spur mobile searches and calls, print tends to have web addresses and email addresses which are predominantly accessed by mobile).
Boston Consulting Group summarises this best by writing, "Companies need to understand how customers are using digital and mobile channels for research in order to effectively guide their purchase journeys…customers expect not only richer online engagement but also multimedia and interactive content…Companies need to invest in technology, data, and analytics to improve insights into customer buying behavior and help provide more relevant, personalized experiences and content to buyers."
Which Digital Touchpoints Should You Consider?
By going through the above stages of customer journey, it's easy to identify your most important customer touchpoints. Simply step out of your role and into the customer's shoes. Consider every touchpoint the customer comes in contact with. What touchpoints need improvements? Are there any missing touchpoints? What touchpoints are most effective at moving prospects forward in their journey? Consider where the customer may need additional help or resources that currently aren't available. And consider how you can drive more customers to the content that has been most effective.
A non-exhaustive list of touchpoints to consider along a customer journey include:
How to Implement Digital Touchpoints?
Once all the planning and design has been done to improve the customer experience, the challenge is to implement working solutions. This could take a number of forms including: frontend web and mobile development, process integration, cross-platform development and support, systems integration and solution hosting. The post "Implementing Engaging Customer Touchpoints" offers a video describing what needs to be done.
A word of caution: Brands need to optimise customer journeys, and not get lost implementing and improving touchpoints in silos. It is not about the individual touchpoints themselves, but rather the entire journey and how touchpoints contribute to the overall customer experience. For example, Exhibit 1 illustrates how individual touchpoints may perform well even if the overall experience is poor.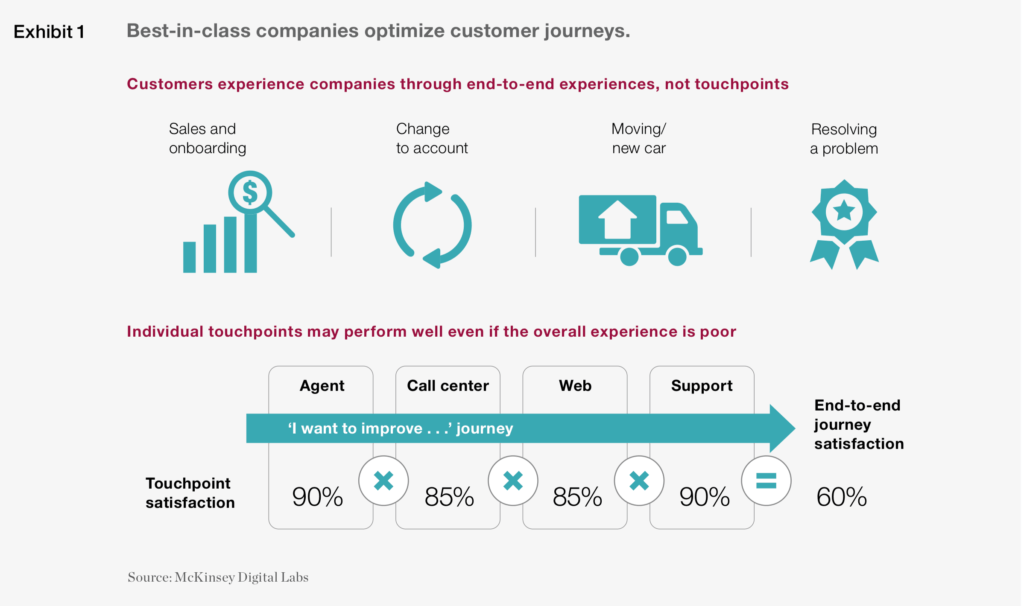 According to research from IDC, two-thirds of the Global 2,000 companies will shift their focus from traditional, offline strategies to more modern digital strategies to improve the customer experience before the end of 2019 – with 34% of companies believing they'll fully adopt digital transformation within 12 months or less.
Will digital disrupt your business, or will you seize it as an opportunity?